As another season of Bears disappointment comes to end, one cannot help but wish for wholesale change at the top. The spectrum of change ranges from simply firing Matt Nagy to the full "scorched earth" of the entire coaching staff and front office. One thing is for certain. The Bears are not in this position if GM Ryan Pace didn't bungle the opportunity to make this team great. Whether it was unnecessarily trading up in the draft, overpaying underperforming veterans, or simply outsmarting himself, Ryan Pace has made too many mistakes to keep his job. The following is a ranked list of those mistakes, how they were detrimental, and what I would have done differently. (Strap in for some armchair general management!)
10. Trading up for Leonard Floyd
Before the 2016 NFL Draft Ryan Pace said confidently that there are 11 guys he would be happy with. With the 11th pick in hand, Pace would surely get one of his guys. Ever the self-negotiator he traded up and with the Buccaneers and drafted Leonard Floyd. Floyd's lackluster tenure aside, it was pretty clear that this trade was unnecessary. There is a really good chance that Floyd would have been there two picks later and even if he wasn't there was plenty of talent still on the board.
What I would have done: Kept the 11th pick and drafted Laremy Tunsil
9. Drafting Kevin White
Part of me wants to give Ryan Pace a pass on this one given that it was his first draft selection. But selecting Kevin White 7th overall in 2015 was truly a sign of things to come. White's career in Chicago can be categorized as non-existent as he accumulated 25 catches over 4 years with no TDs and only 14 games played. A swing and a miss is not the way you want to start your tenure as a General Manager in the NFL.
What I would have done: Drafted Vic Beasley
8. The Nauseating List of Failed Wide Receivers
In 2008, former Bears wide receiver Muhsin Muhammad told Sports Illustrated "Chicago is where Wide Receivers go to die." Ryan Pace fulfilled this prophecy in an extraordinary fashion. Here is a list of Chicago Bears that stole oxygen from the Wide Receiver room at Hallas Hall under Ryan Pace.
Javon Wims: 
Years: 3
Receptions: 28
Yards: 266
TD: 2
Earnings: $2.2M 
Josh Bellamy
Years: 5
Receptions: 76
Yards: 999
TD: 5
Earnings: $4.9M
Riley Ridley
Years: 2
Receptions: 10
Yards: 108
TD: 0
Earnings: $2M ($3.2M if he plays next year)
Kendall Wright
Years: 1
Receptions: 59
Yards: 614
TD: 1
Earnings: $2M
Markus Wheaton
Years: 1
Receptions: 3
Yards: 51
TD: 0
Earnings: $6M
Eddie Royal
Years: 2
Receptions: 70
Yards: 607
TD: 3
Earnings: $10M
Kevin White
Years: 3
Receptions: 25
Yards: 285
TD: 0
Earnings: $16.5M
Taylor Gabriel
Years: 2
Receptions: 96
Yards: 1041
TD: 6 (3 in one game)
Earnings: $14M
Anthony Miller
Years: 3
Receptions: 134
Yards:1564
TD: 11
Earnings: $4.5M
7. Kyle Fuller Extension
Many Bears fans will disagree, but I don't think Kyle Fuller was a very good cornerback. His lack of speed forced him to cushion his coverage. Yes, he had many interceptions and pass deflections but that is the bi-product of a lack of fear to throw his way. So when the Green Bay Packers offered Fuller a massive 4 year/$56M deal in 2018 when he was a restricted free agent, Ryan Pace had a decision on his hands. He could either match the deal or let him go to a division rival. He chose the former which is likely what the Packers wanted him to do. This deal hamstrung the cap, which would eventually lead to Fuller getting cut just before the 2021 season.
What I would have done: Let Kyle Fuller sign with the Packers
6. Drafting Adam Shaheen in the 2nd round
Ryan Pace over-drafting in the early rounds is almost a constant in the Bears formula. A prime example of this was selecting Adam Shaheen in the 2nd round out of Ashland University. His size and movement immediately stamped him with the nickname "Baby-Gronk." Looking back, the only Gronk comparison that was warranted was his IQ.  Time after time we saw tight ends like Daniel Brown taking crucial 3rd down snaps because Shaheen could not comprehend the playbook. His 3 years in Chicago yielded only 26 catches and 4 TDs. This miss led to the tight end carousel that the Bears are still in today.  What is more concerning is the talent Ryan Pace passed on to pick Shaheen. Picks later the Steelers drafted JuJu Smith-Schuster out of USC. Chris Godwin, Cooper Cupp, and Kareem Hunt were drafted in the 3rd. Not to mention George Kittle getting picked in the 5th round, but every GM missed that one.
What I would have done: Drafted literally any other available skill position to help Mitchell Trubisky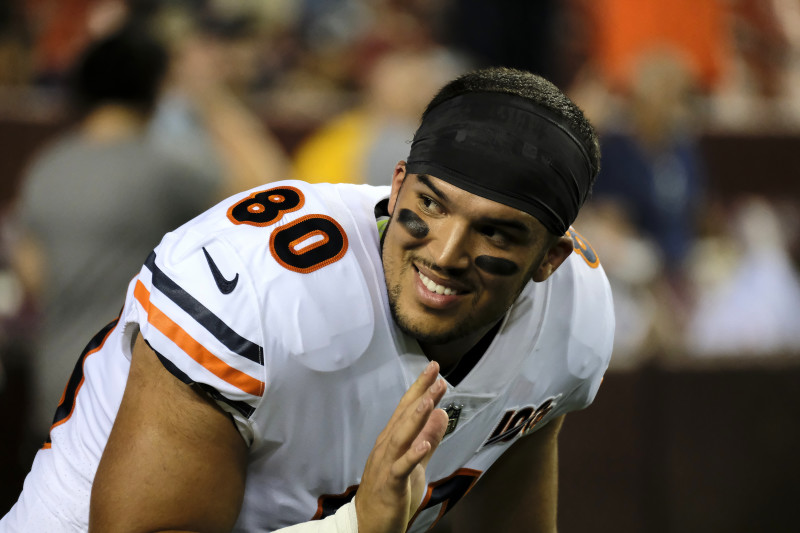 5. The Trey Burton Signing
Although not as consequential as the other acts of solecism, the Trey Burton signing truly is an embodiment of why Ryan Pace is not cut out for this gig. Burton's tenure in Philadelphia was nothing short of mediocre with only 6 TD's and 629 yards over the course of 4 seasons. His alleged strength was his versatility in a Matt Nagy RPO-style offense (cringe). In reality, he was the third-string gadget Tight End on a Super Bowl-winning team. What seemed like mere days after his part in the Philly special Burton was offered a 4 year/$32M contract.
His first year with the Bears was decent, as he was able to snag 54 catches for over 500 yards and 6 TDs. In his 2nd season, he played only 8-games and had 14 catches for 84 yards and 0 TD. With two years remaining on his deal he was cut and received $5 Million for his troubles.
Trey Burton played to his potential as a Chicago Bear. The problem was, he was paid like a fringe Pro Bowl Tight end. And there is only one person to blame for that blunder.
What I would have done: Signed TE Derek Carrier to the 3 Year/7M dollar deal he got with the Raiders
4. Drafting Mitchell Trubisky
Many will be shocked that this isn't number 1 on the list. Don't get me wrong, it was awful putting my faith in a quarterback who lacked accuracy and was just not ready to succeed at the NFL level. It was equally, if not more, demoralizing to watch the coaching staff blame all of their inadequacies on a quarterback they knew wasn't very good. Mitchell Trubisky didn't draft himself 2nd overall, Ryan Pace did. And it was that same burning baptism that forced increased scrutiny onto every inevitable blunder. This has been said before, but I am pretty confident Watson or Mahomes would have also struggled in this system albeit not as mightily.
What I would have done: Drafted Jamal Adams, sucked with Glennon, and draft Josh Allen
3. Hiring Matt Nagy
I can write a whole article on why Matt Nagy was a horrible hire. (I still might) But the fact of the matter is, someone had to pick this Shmuck. Ryan Pace had his first shot at a head coach when he hired John Fox and that was an utter disaster. So much so, that they didn't even tell Fox they were drafting Mitchell Trubisky. After letting Fox go, Pace went for the supposed offensive genius that fell from the lowest branch of the Andy Reid coaching tree. It didn't take long before Bears nation realized that Ryan Pace got completely conned.
While speaking in entirely-vague LinkedIn-isms, Matt Nagy was able to sell snake oil to a front office desperately looking for a winner. What they got was a stubborn, accountability-proof, benched play-caller that thought his leadership could overcome time zones. A competent GM would have been able to see through his inadequacies. But Matt Nagy told Pace everything he wanted to hear.
What I would have done: Hire Frank Reich (Hindsight helps here)
2. Signing Mike Glennon
Ryan Pace's greatest weakness was his own mind and this was fully on display when he signed Mike Glennon to a 3 year/$45M deal in 2017. Although only $18.5M of it was guaranteed this was a vomit-inducing overpayment by every stretch of the imagination (Especially because he was paid to be a bridge QB to Mitchell Trubisky).
The QB free agency class in 2017 was something to be desired but it did allow for a soft market with bargains aplenty. Here are just a few of the signings:
Case Keenum: 1 Year/ $2M (NFC Championship Game) (MIN)
Nick Foles: 2 Years/$11M (Super Bowl MVP) (PHI)
Ryan Fitzpatrick: 1 Year/$3M (TAM)
Brian Hoyer: 2 years/$12M (SFO)
Bears fans all know what happens next. Glennon plays in 4 games and is benched for Mitchell Trubisky. Why pay Mike Glennon the same amount of money as Tom Brady in 2017 when you can get a serviceable starter for MUCH less? The truth is Ryan Pace legitimately thought there was a competitive market for Mike Glennon and outbid himself to get him. By the time he had realized what he had done, it was too late and he was forced to draft Mitch to pretend like he had a plan.
What I would have done: Signed Ryan Fitzpatrick to a 2 Year/ $5.5M deal
1. Trading Up for Mitchell Trubisky
I truly think that trading up for Mitchell Trubisky is more egregious than actually drafting him. There was never a scenario in which Ryan Pace was going to draft Deshaun Watson or Patrick Mahomes which is why the Sunday Night Football graphics were so nauseating. But on Draft Night 2017, Ryan Pace got truly outclassed and outwitted by a Rookie GM who just left the broadcast booth in John Lynch. Lynch held the 2nd pick and was able to convince Pace that he wanted Mitchell Trubisky (which he didn't) forcing the panic trade up for the 2nd year in a row. To move up one spot unnecessarily the Bears traded the 3rd overall pick as well as a 3rd, a 4th, and a 3rd in next year's draft.
It is important to note that the 49'ers somewhat bungled the 3rd pick as well by selecting Soloman Thomas, but honestly, they were playing with house money. They would later select Fred Warner with the Bears 3rd round pick who has been nothing short of phenomenal.
Regardless, Ryan Pace lost 3 draft picks for nothing, hamstringing his roster depth in order to overdraft an unproven talent.
What I would have done: Kept the 3rd pick and drafted Jamal Adams (But if Mitch was available at 3, there is no way Pace would have passed him up)