So by now, the whole city of Chicago is prepared to follow the QB battle throughout camp between Mitchell Trubisky and newcomer Nick Foles. From where I stand, this is kind of like a civil war amongst Bears fans. Either you are ride or die with Mitchell or you have given up and are just ready to put all of your hope into Nick Foles (Imagine hearing that after the double doink). And there is no in between. As a Trubisky ride-or-die, I as well as many of my comrades, have taken major heat over this particular stance. It's no secret he wasn't good last year. In fact, you could say he was bad. And still being Team Mitchell is almost a sin at this point. But our spirit is strong like that of the Spartan Army led by Gerard Butler.
Anywho, war is upon us. As recent as yesterday, #10 was seen working out with highly-touted QB coach Jeff Christensen, who has worked with guys like Pat Mahomes, Jimmy G, Kirk Cousins, and Ryan Tannehill as recent as last year. By all indications he's maybe the absolute best in the business when it comes to coaching mechanics and technique for young quarterbacks. Add in the fact that he has a revamped coaching staff working with him and there is no reason why Mitch should be as bad as he was last year. Furthermore, this is his last chance to prove why he deserves to be in the NFL.
And finally we get to last night's news. Big Dick Nick strikes again, literally. He welcomed Duke Nathan Foles into the world:
(Side note, with all that Nick and his wife have gone through in the past, it is great to see them welcome a new baby boy into this world.)
However, some folks (me) are seeing right through this. "Duke"… Hmmm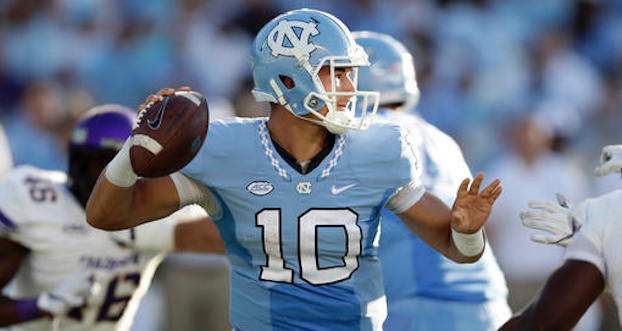 This absolutely, 100% has to be a direct shot at his counterpart and is by no means just a pure coincidence. If Duke vs UNC wasn't the biggest rivalry in sports before, it has to be now that its taking over the Chicago Bears franchise.
If I'm being honest though, I love this. This is Michael Jordan levels of petty/competitiveness.
Mitch is probably out there as we speak grinding it out with his teammates, but Nick is just mad chillin at home with his family and simultaneously starting the mental warfare with his teammate. Like the tortoise and the hare. Mitch is sprinting out of the gates showing why he deserves to start, but our guy Nick is taking it slow and steady, knowing that he will eventually be the guy. Just riveting stuff.
Being a Mitch fan, him losing would probably hurt, and would make me regret spending $30 on a UNC football jersey from DHGate, but Foles winning in this fashion would make me a fan.
Training camp can't get here soon enough. May the best man win.