Well looks like we found the scrooge of Christmas in New York and it is New York Jets head coach Adam Gase as sources basically are saying he doesn't care about the fans because well he makes a whole lot of money.
"I'm rich as f—k."

Sources: Adam Gase shuts out criticism from frustrated Jets fans by boasting about bloated bank account.

Story: https://t.co/KA21hDV3Vd

Tuesday NY Daily News back Page: pic.twitter.com/XKpY5szdkP

— Manish Mehta (@MMehtaNYDN) December 24, 2019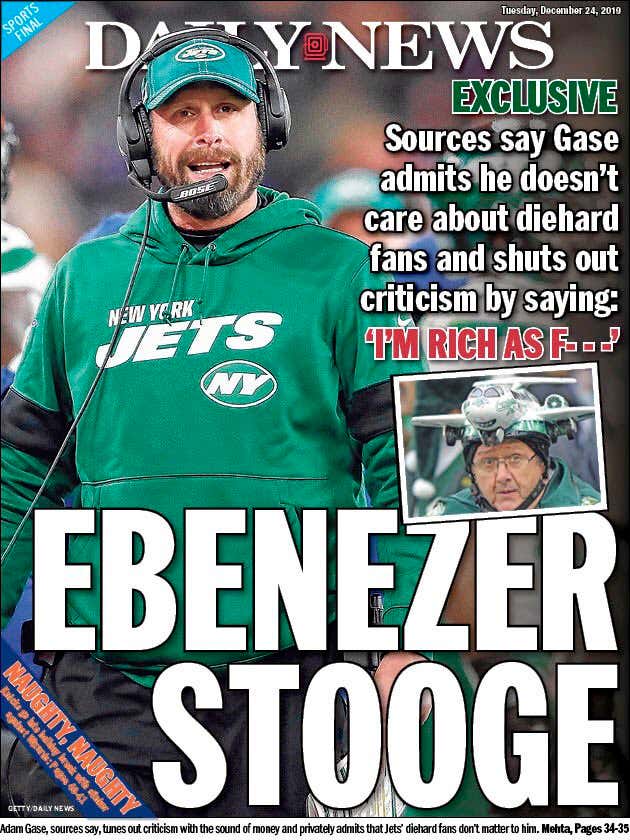 SOURCE–Adam Gase has a message for every long-suffering Jets fan, who has endured a lifetime of anguish: He doesn't care about you. The Daily News has learned that the embattled head coach has privately told people for months that Gang Green diehards have never mattered to him. "I'm rich as f–k" has become Gase's go-to line since taking over 11 months ago, according to sources. Gase has repeatedly said it to anyone that mentions the avalanche of criticism this year. It has become his defense mechanism. "He's an insecure guy," a Jets source told the News.
Adam Gase an insecure guy? No way! Who would have thought? He seemed so level headed and nice. Yeah right. Adam Gase seems like a weirdo but at the same time whether or not he cares about the fans the fans should also realize that in the last 7 games the Jets are 5-2 and if they beat The Buffalo Bills week 17 who are literally playing for nothing as their playoff seed is already determined The Jets can finish the regular season on a 6-2 run.