Yesterday a story came out that Patrick Mahomes girlfriend tweeted that her and Mahomes little brother had to be moved to a safe place due to Patriot fans harassing them.
Security had to save Brittany Matthews, Patrick Mahomes' girlfriend, from Patriots fans https://t.co/xqAf09v6Oy pic.twitter.com/mvFXgm2UPb

— New York Post (@nypost) December 9, 2019
LATimes – Patrick Mahomes' girlfriend says she and the Kansas City quarterback's younger brother were moved to a "safe place" by Gillette Stadium security during the Chiefs' game against the New England Patriots on Sunday in Foxborough, Mass. Brittany Matthews was all over social media as she and Jackson Mahomes watched the Chiefs defeat the Patriots 23-16 to clinch the AFC West title. In addition to commentary about the action on the field, Matthews also provided details about how the two of them were being treated by some New England fans. And according to Matthews, they weren't treated well. "As soon as we sit down, drunk dude 'hey everyone this is Patrick Mahomes girl and brother, let's give them …,'" tweeted Matthews, a personal trainer who is said to have been Patrick Mahomes' high school sweetheart. Jackson Mahomes seemed to corroborate Matthews' claims on his Twitter feed. "Patriots fans are rude as hell!!" he wrote. "Everyone was sleeping on us, so we woke em up," Matthews wrote on an Instagram post that included a photo of her kissing Patrick Mahomes in a Gillette Stadium hallway.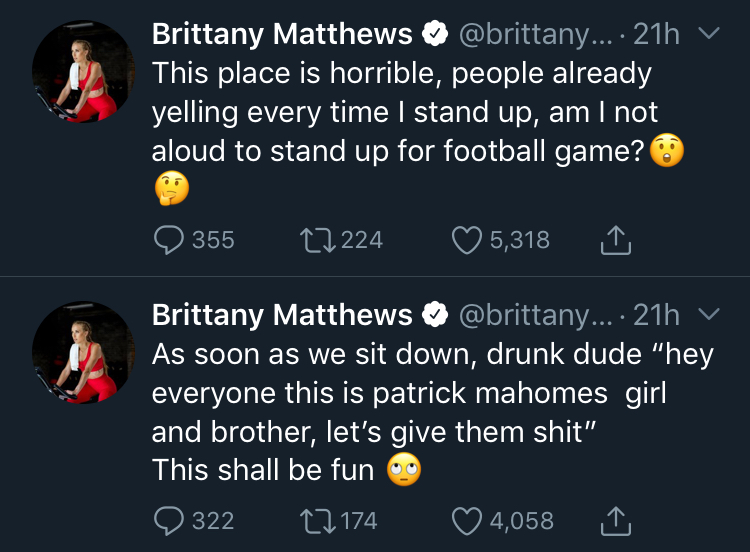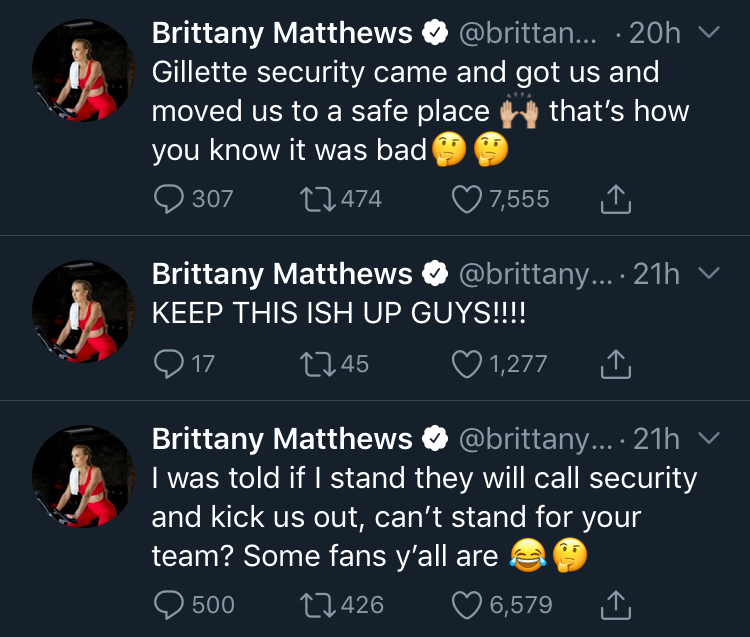 Well some more video evidence is coming out of how Mahomes girl and brother were acting. And it wasn't horrible or anything but they definitely were taunting Patriot fans.
Patrick Mahomes' girlfriend Brittany Matthews claims she was harassed by fans at Gillette Stadium during Patriots-Chiefs: I wonder why? pic.twitter.com/9lL5MCgGr2

— Kevin Rooney (@Rooney013) December 10, 2019
Since everyone likes to hate on my TikToks I made one today in honor of @barstoolsports pic.twitter.com/kq50ppe74R

— Jackson Mahomes (@jacksonmahomes) December 9, 2019
They definitely weren't doing anything bad. But man you got to understand if you are going to dish out some heat expect some heat back. Jackson And Brittany got to understand that if you are going to a road team and taunting the crowd and dancing on the field, yeah you're going to get some heat back from the fans. Plain and simple. Let's just hope for their sake they don't end up back at Foxborough for the playoffs because they might get a real taste of their own medicine at that point.