The headline says it all because that is exactly what it is. Scottie Pippens ex-wife Larissa wants everyone to know despite the rumors that she has not and will not be sleeping with Sixers point guard Ben Simmons.
Larsa Pippen Says She's Not Banging Ben Simmons https://t.co/iPqK2LNgkc

— TMZ Sports (@TMZ_Sports) August 21, 2019
She went on her Instagram story and posted: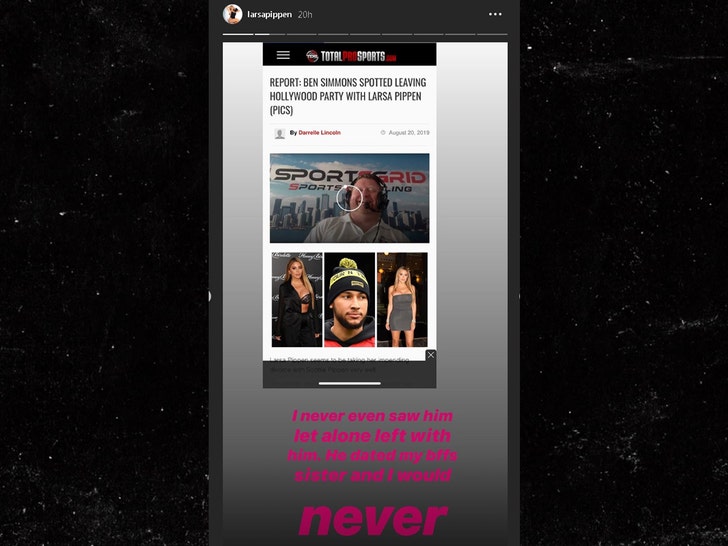 "I never even saw him, let alone left with him" she added "he dated my bff's sister and I would never".
She was referring to a story circulating that she left a dinner with Ben Simmons:
Watch Ben Simmons Allegedly Leave Dinner Date With Larsa Pippen Who Cheated on Scottie Twice With Future, But Made Pip Apologize to Her & Also Use to Be Kendall Jenner's Babysitter Who Cheated on Ben 6 Times (Pics-Vids) https://t.co/qv628jMlSn via @BasketballguruD pic.twitter.com/aoQ5cN7Vip

— Robert Littal (@BSO) August 21, 2019
This isn't the first time Larsa has been in the news as she was rumored to have left Scottie Pippen for the rapping Future a few years ago. She also happens to best friends with The Kardashians and there is the whole Ben Simmons dated Kendall Jenner thing. Anways Larsa is 45 years old and looks pretty good for her age:
Well, whatever. She look great that's really the whole point of this story.